Read Time:
1 Minute, 30 Second
Sheet metal is a comprehensive cold processing process for thin metal sheets (usually below 12mm thickness), including shearing, number punching, laser cutting, water cutting, compounding, bending, press riveting, pull riveting, welding, grinding, clamping, forming, etc. Various auxiliary equipment such as: uncoiler, leveling machine, deburring machine, spot welder, etc.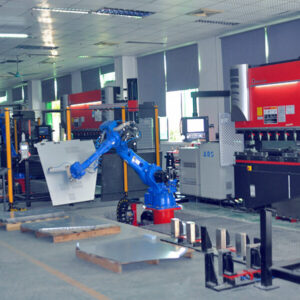 Commonly used processing materials for sheet metal are stainless steel plate, cold plate, hot plate, pickled plate, galvanized plate, aluminum plate, copper plate, etc.
Commonly used performance treatments for sheet metal include: brushing, polishing, sandblasting, powder coating, painting, galvanizing, gold plating, copper plating, nickel plating, chrome plating, anodizing, phosphating, silk screen printing, etc.
Usually, the three most important steps in a sheet metal factory are cutting, punching/cutting, and folding. Modern sheet metal processes include: is filament power winding, laser cutting, heavy duty machining, metal bonding, metal drawing, plasma cutting, precision welding, roll forming, sheet metal bending and forming, die forging, water jet cutting, precision welding, etc.
Custom Metal Box Manufacturers | Custom Sheet Metal Enclosures | Custom Aluminum Box | Custom Sheet Metal Boxes | Custom Metal Boxes | Sheet Metal Supplier | Steel Box Manufacturers | Sheet Metal Box Manufacturers | Custom Made Metal Boxes | China Sheet Metal Manufacturer | Outdoor Vending Machine Enclosures | Equipment Enclosures | Machinery Enclosures | Machine Enclosure | Machine Enclosures | Industrial Machine Enclosures | Metal Enclosures for Electronics | EV Charger Outdoor Enclosure | Outdoor EV Charger Enclosure | EV Charger Enclosure | Custom Aluminium Box | Custom Steel Box | Metal Box Supplier | Metal Enclosure Manufacturer | Sheet Metal Enclosure Manufacturers | Metal Enclosure Box Manufacturer | Metal Enclosure Manufacturer | Aluminium Box Manufacturer | Outdoor Equipment Enclosures | Enclosure for EV Charger | EV Charging Enclosure | EV Charger Enclosure | Aluminium Box Manufacturers | Equipment Enclosures Metal | Sheet Metal Enclosure | Metal Enclosure Box | Metal Enclosure | Enclosure Box Price | Sheet Metal Manufacturers | Sheet Metal Manufacturing companies