Read Time:
1 Minute, 58 Second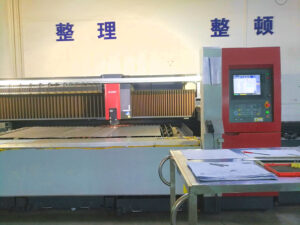 CNC rotary punching machine is a pressure processing equipment integrating machine, electricity, liquid and gas, which is used for processing all kinds of sheet metal thin plate parts, and can carry out many kinds of complex processing on the plate, and can finish the parts automatically at one time.
NCT is one of the most vital of the pressure processing equipment, which can automatically process different shaped holes of different sizes and hole pitches as required, and can also be used for punching large round holes, square holes and curved contours of various shapes in a one-step punching way with small punching dies, while carrying out special process processing. Compared with the traditional punching, it saves a lot of tooling cost, can reduce cost and shorten production cycle.
High processing precision, stable processing quality, high punching accuracy of CNC punching machine, small punching burr, good flatness of sheet metal workpiece, less subsequent processing, low scrap rate and good forming quality.
The machine can process the sheet metal workpiece individually or batch process the workpiece with group command to improve production efficiency. When the sheet metal processing parts are changed, generally only the CNC program needs to be changed, which saves production preparation time.
Custom Metal Box Manufacturers | Custom Sheet Metal Enclosures | Custom Aluminum Box | Custom Sheet Metal Boxes | Custom Metal Boxes | Sheet Metal Supplier | Steel Box Manufacturers | Sheet Metal Box Manufacturers | Custom Made Metal Boxes | China Sheet Metal Manufacturer | Outdoor Vending Machine Enclosures | Equipment Enclosures | Machinery Enclosures | Machine Enclosure | Machine Enclosures | Industrial Machine Enclosures | Metal Enclosures for Electronics | EV Charger Outdoor Enclosure | Outdoor EV Charger Enclosure | EV Charger Enclosure | Custom Aluminium Box | Custom Steel Box | Metal Box Supplier | Metal Enclosure Manufacturer | Sheet Metal Enclosure Manufacturers | Metal Enclosure Box Manufacturer | Metal Enclosure Manufacturer | Aluminium Box Manufacturer | Outdoor Equipment Enclosures | Enclosure for EV Charger | EV Charging Enclosure | EV Charger Enclosure | Aluminium Box Manufacturers | Equipment Enclosures Metal | Sheet Metal Enclosure | Metal Enclosure Box | Metal Enclosure | Enclosure Box Price | Sheet Metal Manufacturers | Sheet Metal Manufacturing companies | Custom Made Aluminium Boxes | Custom Made Metal Box | Aluminum Sheet Metal Fabrication | Aluminium Sheet Metal Fabrication | Auminium Tool Boxes Made to Order | Custom Metal Enclosures | Custom Stainless Steel Box | Custom Made Aluminum Boxes | Metal Box Manufacturers | Custom Steel Enclosures | Custom Stainless Steel Enclosures | Custom Metal Box | Custom Aluminium Box