Read Time:
3 Minute, 12 Second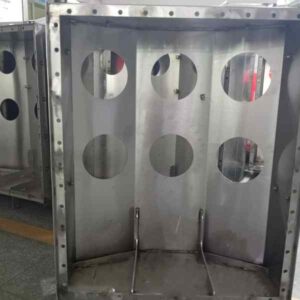 Internal hole processing conditions are harsh. As the tool size is limited by the hole size, the rigidity is poor and bending deformation is easily produced, thus affecting the hole processing quality. Commonly used hole processing methods include drilling, broaching, reaming, etc. The following is an introduction to sheet metal drilling and processing methods.
Drilling is the process of machining holes in solid materials, the diameter of the hole is generally less than 80mm. the drill usually has two main cutting edges, in which the drill is cut while rotating. The leading angle of the drill bit increases from the central axis to the outer edge. The cutting speed of the drill bit is higher near the outer circle and the cutting speed decreases towards the center, where the cutting speed of the drill bit is zero at the center of rotation. The transverse edge of the drill is located near the axis of the center of rotation, and the transverse edge has a large front angle, no chip space, and a lower cutting speed, resulting in greater axial resistance. If the transverse cutting edge is ground to A or C type in DI1414, and the cutting edge near the center axis has a positive front angle, the cutting resistance can be reduced and the cutting performance can be significantly improved.
There are two processing methods for drilling holes: one is drill rotation and the other is workpiece rotation. The said general drilling tools have twist drill, center drill, deep hole drill, etc. The said general drilling tools are twist drill, and the diameter of the said drill bit is about 0.1 to about 80 mm. due to the limitation of the structure, the bending and torsional rigidity of the drill bit is low, the alignment is not good, and the drilling accuracy is low, generally only up to it13-it11; the surface roughness is also large, RA is generally 50-12.5 μm; but the drilling metal removal rate is large However, the metal removal rate of drilling is large and the cutting efficiency is high. The two drilling methods produce different errors. In the drilling mode of drill rotation, due to the asymmetry of the cutting edge and the lack of rigidity of the drill, the centerline of the processed hole can deviate or not be straight, but the hole is basically unchanged; while in the drilling mode of workpiece rotation, the drill causes the hole to change and the centerline of the hole is still straight.
Custom Metal Box Manufacturers | Custom Sheet Metal Enclosures | Custom Aluminum Box | Custom Sheet Metal Boxes | Custom Metal Boxes | Sheet Metal Supplier | Steel Box Manufacturers | Sheet Metal Box Manufacturers | Custom Made Metal Boxes | China Sheet Metal Manufacturer | Outdoor Vending Machine Enclosures | Industrial Machine Enclosures | Metal Enclosures for Electronics | EV Charger Outdoor Enclosure | Outdoor EV Charger Enclosure | EV Charger Enclosure | Custom Aluminium Box | Custom Steel Box | Metal Box Supplier | Metal Enclosure Manufacturer | Sheet Metal Enclosure Manufacturers | Metal Enclosure Box Manufacturer | Metal Enclosure Manufacturer | Aluminium Box Manufacturer | Outdoor Equipment Enclosures | Aluminium Box Manufacturers | Equipment Enclosures Metal | Metal Enclosure Box | Metal Enclosure | Enclosure Box Price | Sheet Metal Manufacturers | Sheet Metal Manufacturing companies | Custom Made Aluminium Boxes | Custom Made Metal Box | Aluminum Sheet Metal Fabrication | Aluminium Sheet Metal Fabrication | Auminium Tool Boxes Made to Order | Custom Metal Enclosures | Custom Stainless Steel Box | Custom Made Aluminum Boxes | Metal Box Manufacturers | Custom Steel Enclosures | Custom Stainless Steel Enclosures | Custom Metal Box | Custom Aluminium Box | Sheet Metal Fabrication Supplier | China Sheet Metal Fabrication | Custom Sheet Metal Fabrication | Sheet Metal Fabrication Services | Metal Manufacturing in China | Aluminum Box Fabrication | Sheet Metal Box Fabrication | Sheet Metal China | Precision Sheet Metal Fabrication | Custom Aluminum Box Fabrication | Custom Metal Box Fabrication | Sheet Metal Manufacturing | Metal Manufacturing Company | Metal Bending Services