Read Time:
2 Minute, 32 Second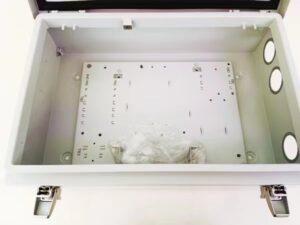 1、 Principle of oxidation coloring
The anodic oxide film is composed of a large number of hexagonal cells perpendicular to the metal surface, each cell has a membrane pore in the center and has a strong adsorption force. When the oxidized aluminum products are immersed in the dye solution, the dye molecules enter the membrane pore of the oxide film through diffusion, and at the same time form covalent and ionic bonds with the oxide film that are difficult to separate. This bonding is reversible, and desorption occurs under certain conditions. Therefore, after dyeing, the dye must be sealed to fix the dye in the membrane pore, and increase the corrosion resistance and wear resistance of the oxide film.
2、 The influence of anodic oxidation process on dyeing
In the whole process of oxidation dyeing, it is common to have bad dyeing due to the oxidation process. In order to obtain uniform oxide film, it is important to ensure sufficient circulation, cooling and good electrical conductivity, in addition to the stability of the oxidation process.
The temperature of the oxidation tank liquid has a significant effect on the dyeing, too low a temperature or too high a temperature is not conducive to dyeing control, the temperature difference of the oxidation tank should be within 2℃; the current density is too high, in the case of a certain film thickness, the electrolysis time of the aluminum products in the tank should be shortened accordingly; the film thickness is too low, the dyeing is prone to unevenness, and at the same time, when it is required to dye dark colors (such as black), because the film thickness Not enough, resulting in limited dye deposition, can not achieve the required color depth; in short, anodic oxidation as the pre-process of dyeing, is the basis of dyeing.
Custom Metal Box Manufacturers | Custom Sheet Metal Enclosures | Custom Aluminum Box | Custom Sheet Metal Boxes | Custom Metal Boxes | Sheet Metal Supplier | Steel Box Manufacturers | Sheet Metal Box Manufacturers | Custom Made Metal Boxes | China Sheet Metal Manufacturer | Outdoor Vending Machine Enclosures | Industrial Machine Enclosures | Metal Enclosures for Electronics | EV Charger Outdoor Enclosure | Outdoor EV Charger Enclosure | EV Charger Enclosure | Custom Aluminium Box | Custom Steel Box | Metal Box Supplier | Metal Enclosure Manufacturer | Sheet Metal Enclosure Manufacturers | Metal Enclosure Box Manufacturer | Metal Enclosure Manufacturer | Aluminium Box Manufacturer | Outdoor Equipment Enclosures | Aluminium Box Manufacturers | Equipment Enclosures Metal | Metal Enclosure Box | Metal Enclosure | Enclosure Box Price | Sheet Metal Manufacturers | Sheet Metal Manufacturing companies | Custom Made Aluminium Boxes | Custom Made Metal Box | Aluminum Sheet Metal Fabrication | Aluminium Sheet Metal Fabrication | Auminium Tool Boxes Made to Order | Custom Metal Enclosures | Custom Stainless Steel Box | Custom Made Aluminum Boxes | Metal Box Manufacturers | Custom Steel Enclosures | Custom Stainless Steel Enclosures | Custom Metal Box | Custom Aluminium Box | Sheet Metal Fabrication Supplier | China Sheet Metal Fabrication | Custom Sheet Metal Fabrication | Sheet Metal Fabrication Services | Metal Manufacturing in China | Aluminum Box Fabrication | Sheet Metal Box Fabrication | Sheet Metal China | Precision Sheet Metal Fabrication