Read Time:
2 Minute, 16 Second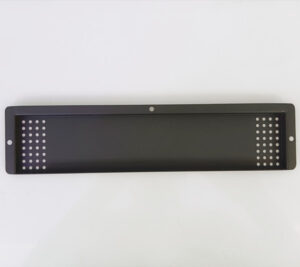 Sheet metal processing is also known as metal sheet processing. For example, sheet metal is used to make the appearance of cars, refrigerator shells, computer cases, cabinets and so on. As these products are in direct contact with air, it is the heavy responsibility of the sheet metal cabinet processing factory to do a good job of anti-corrosion work, and the following are a few ways to deal with anti-corrosion work.
1、Firstly descaling the bottom layer of sheet metal processing products.
2、Sheet metal cabinet processing factory generally does epoxy zinc-rich primer on the surface of the product, which is mainly used for steel structure and rust-proof primer of steel products, its coating film has very excellent physical and chemical effects, relatively easy to construct, good matching function, the primary components are epoxy resin, epoxy curing agent, zinc powder, rust-proof pigment, additives and organic solvents.
3、The epoxy cloud iron center paint needs to be used with the epoxy zinc-rich primer, as the transition layer of the long-lasting anti-corrosion coating, its role is mainly to enhance the closure of the composite coating and anti-corrosion, or can also be used as the anti-corrosion and anti-rust primer to enhance the toughness of the coating film, so that the coating film has excellent adhesion and closure.
4、The products of sheet metal processing can be used as top layer. The top layer can be used for epoxy asphalt top coat, oxidized rubber top coat, acrylic and polyurethane top coat, fluorocarbon top coat, etc.
Custom Metal Box Manufacturers | Custom Sheet Metal Enclosures | Custom Aluminum Box | Custom Sheet Metal Boxes | Custom Metal Boxes | Sheet Metal Supplier | Steel Box Manufacturers | Sheet Metal Box Manufacturers | Custom Made Metal Boxes | China Sheet Metal Manufacturer | Outdoor Vending Machine Enclosures | Equipment Enclosures | Machinery Enclosures | Machine Enclosure | Machine Enclosures | Industrial Machine Enclosures | Metal Enclosures for Electronics | EV Charger Outdoor Enclosure | Outdoor EV Charger Enclosure | EV Charger Enclosure | Custom Aluminium Box | Custom Steel Box | Metal Box Supplier | Metal Enclosure Manufacturer | Sheet Metal Enclosure Manufacturers | Metal Enclosure Box Manufacturer | Metal Enclosure Manufacturer | Aluminium Box Manufacturer | Outdoor Equipment Enclosures | Enclosure for EV Charger | EV Charging Enclosure | EV Charger Enclosure | Aluminium Box Manufacturers | Equipment Enclosures Metal | Sheet Metal Enclosure | Metal Enclosure Box | Metal Enclosure | Enclosure Box Price | Sheet Metal Manufacturers | Sheet Metal Manufacturing companies | Custom Made Aluminium Boxes | Custom Made Metal Box | Aluminum Sheet Metal Fabrication | Aluminium Sheet Metal Fabrication | Auminium Tool Boxes Made to Order | Custom Metal Enclosures | Custom Stainless Steel Box | Custom Made Aluminum Boxes | Metal Box Manufacturers | Custom Steel Enclosures | Custom Stainless Steel Enclosures | Custom Metal Box | Custom Aluminium Box