Read Time:
1 Minute, 21 Second
Making a box out of china sheet metal parts can use the following steps: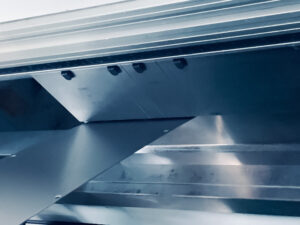 Cut the china sheet metal parts: Use a metal shear, plasma cutter, or other cutting tools to cut the sheet metal according to the dimensions of the box. Cut the pieces for the top, bottom, and sides of the box.Bend the sheet metal: Use a sheet metal brake or a hand-held bender to bend the edges of the sheet metal to create the sides of the box.
Join the edges: Use a welding machine, rivets, or screws to join the edges of the sheet metal together. Finish the box: Smooth out any rough edges or sharp corners on the sheet metal box using a file or sandpaper. You can also paint or coat the box to protect it from rust or corrosion.Complete these steps and you'll get a sheet metal box.
These are the basic steps for making a box out of sheet metal. However, it's important to note that this process requires specialized tools and skills, so if you're not experienced in metalworking, it may be best to find assistance from a professional sheet metal box manufacturers.
Custom Metal Box Manufacturers | Custom Sheet Metal Enclosures | Custom Aluminum Box | Custom Sheet Metal Boxes | Custom Metal Boxes | Sheet Metal Supplier | Steel Box Manufacturers | Sheet Metal Box Manufacturers | Custom Made Metal Boxes | China Sheet Metal Manufacturer | Outdoor Vending Machine Enclosures | Equipment Enclosures | Machinery Enclosures | Machine Enclosure | Machine Enclosures | Industrial Machine Enclosures | Metal Enclosures for Electronics | EV Charger Outdoor Enclosure | Outdoor EV Charger Enclosure | EV Charger Enclosure